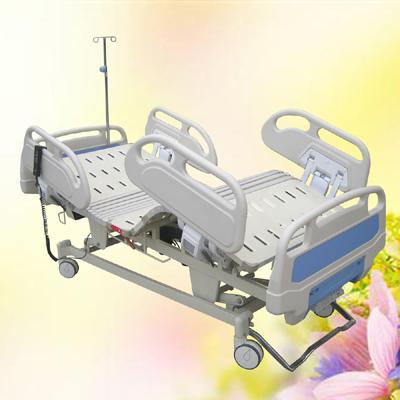 Functions:
1. Back up: 80º¡À5º
2. Leg up: 45º¡À5º
3. Forward Tilt: 12º¡À2º
4. Backward Tilt: 12º¡À2º
5. Height adjustable 250mm
Model
LK2009B-5E
Features
Five Functions ICU Bed
Frame
Powder-coated
Overall Dimension
L218 x W98 x H46/71cm
Bed Surface
190x84cm
Side Rail
72x 30cm, PP Plastic Material
I.V. Pole
72~146cm
Meal Table
98x30cm, PE Material
Castor
Ø150mm, Central Lock System
Capacity
350kg
Net Weight
147kg
Packing Size
218 x93x53cm, 1pc/ctn

1. Motor: Linkan Motor, Linkan Controller HB54-08/ HB84-08
2. PP plastic head/ foot board in wooden or blue color.

3. CPR function that back of bed surface can be kept flat quickly.
4. Original storage battery, it can be operated more than ten
times without power.
5. Nurse controller at end of bed.